By: Jos de Heij and Sofie Schonewille, T3u
On Tuesday morning two classes from the ISK visited our school to talk with students from T3u and T3t. In total, we were with about 60 students who were all very different. At the moment both T3 classes are busy with the teenagers project, in this project we learn about teenagers across the whole world. The idea of this 'exchange' was to find similarities and differences between you and students the students from the ISK (and then we can include this in the outcome of our project). Furthermore, we taught the other students what our day looks like here, what the rules are at school and many other things! Keep reading to find out about what kind of topics we discussed!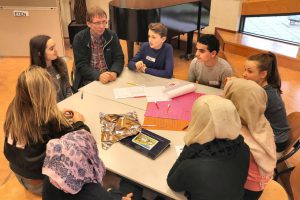 One of the topics we discussed was language (which was a bit ironic because sometimes it was kind of hard to communicate! 🙂 ) While discussing this topic there was one thing that really caught my eye and this was the fact that these 'children' spoke quite a lot of languages! Some of them spoke Arabic, Turkish, French, Dutch and a bit of English! Something else that I found very cool was that they were having trouble (sometimes) with speaking Dutch but sometimes so were we! We mostly speak English at school so while we were talking in Dutch we couldn't always remember the Dutch words or spelling, luckily a boy from our group knew how to spell most of the words! Furthermore, we also learned some new words like ivet, which is yes in Turkish. On the poster we wrote all kinds of words, we wrote down cool Dutch words but also the word yes in as many languages as we could think of!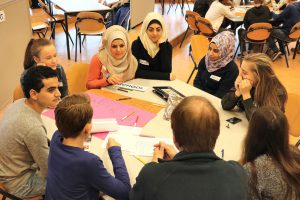 Food was also a subject we talked about. This is the first topic that my group and I (Sofie) talked about. In the beginning, we didn't really know what to do or to write down but eventually, we decided to write down all the foods that we find tasty and the foods that we dislike. We folded the large poster in half to make a line in the middle and proceeded to write down as many different kinds of food as we could. It was cool to see everyone's different taste but also to see that the other students enjoy a lot of the same foods we do. However, the students in our group who were from Syria also enjoyed rice with some kind of sauce, which is something I don't eat very often.
We also talked about traditions, for instance, what our favourite holiday was. Whereas most of the students from the Marnix college said they liked Easter or Sinterklaas best, many of the ISK students liked the Ramadan best. Although these are very different holidays, the reasons we liked them best were very similar. Exchanging gifts, being together with family and eating delicious foods are things we all enjoy!
Doing sports is something that almost all of us enjoyed. This was also one of the few topics where there was barely any difference! Most of the sports or hobbies we do were also things the ISK students did. For example, they also like to watch movies, read books, listen to music etc. Although they do listen to different songs and watch movies in different languages it is still something we can talk about. Furthermore sports the other students do include tennis, basketball, soccer, fitness and much more!
Quite a lot of students from Marnix also practice these sports. (Including me! I play tennis!) Most of them also read Harry Potter, all of this connects us to them!
Lastly, we talked about school, a topic in which the differences were very noticeable. Students from the ISK don't take being on time too seriously (they only get ten minutes of corvee if they're late after all) whereas us, students from the Marnix college wouldn't risk being late because you'll have to do two hours of corvee. When we gave the students from the ISK a tour through our school, we learned another difference. The students were amazed at how big our school is, and how many subjects we have. They told us that their school is much smaller and that they don't have subjects like for instance chemistry or physics. Some of the ISK students told us that they might go to the Marnix college once their Dutch is good enough to follow subjects properly. They were very enthusiastic about it, and we would be glad to welcome new students!
So in conclusion, this exchange was a great success, and we all enjoyed ourselves, even if it was because we didn't have normal lessons. The most important thing we learned from this, is that even though we might come from different countries and different cultural backgrounds, we are very similar in for instance our interests, hobbies, and tastes in music.