Amersfoort, 10th April 2018
Supported by family and friends Quincy Janssen in T3u took to the stage of the Lieve Vrouwe Theatre in Amersfoort on Tuesday to compete in the national finals of the Junior Speaking Contest 2018 in the category third years. The Junior Speaking Contest is organised each year by the TTO organisation, Nuffic.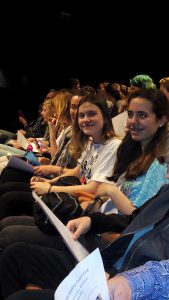 Feeling a little nervous but keen to make a good impression, Quincy took her place among the other candidates. Although the atmosphere was tense, there was lively contact amongst the groups. Second and third year pupils from TTO schools around the country were represented each with their own unique topic on theme: "Living your Fantasy". These were diverse ranging from Star Wars to a courageous speech about a parents' divorce. The performances of both the second and third years was exceptionally high showing both passion and authenticity in their deliveries.
Quincy combined the personal with the educational as she described what happens to the brain during moments of fantasy or fantasising, showing her natural talent for presentation. Her hard work and preparation did not go unrewarded and was highly commended by the judges who presented her with the runner-up prize: a beautiful trophy, a voucher, three certificates and a roze!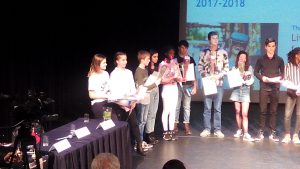 We congratulate Quincy with her achievement and hope that this experience has paved the way for successful future presentations.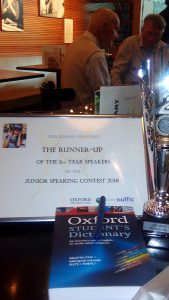 Lucy Massaar
TTO teacher
CAE & CPE teacher
Mentor