The JSC (Junior Speaking Contest), the speaking competition in which second and third years of all bilingual schools compete, to win the title of best speaker of the Netherlands. Every year there is a theme, to which all speeches must link. This year that was as followed: 'What broadens your horizon?'
Our school competition was on Monday the 16th of January. The microphone was set up and nerves were frayed, as our 15 speakers prepared themselves to speak in front of a jury, made up of two fifth year students and two teachers, our own teachers, and more than 70 students!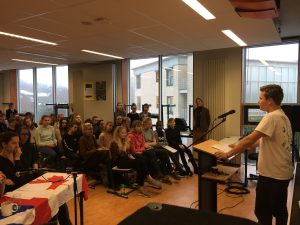 The winners, Akash Hasan (second year) and Claudia Bron (third year) (me), will be going to the regional finals, where they will be battling against all the winners from the region, from which only one from each year can go to the national and final competition!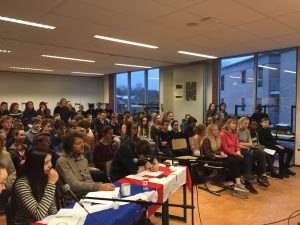 The event was well organized this year as well: a big thank you to Nuffic for taking the initiative. Nuffic not only organizes the JSC, it also initiates other activities in which all bilingual schools can participate.
Now, am I nervous for the next round? Very. But I have great support, which will help me get through it, and, after all, nerves boost your energy, which is a good thing if you want to give an awesome presentation!
All of the speakers did amazingly well, and we are sure that all of them could have been good regional finalists.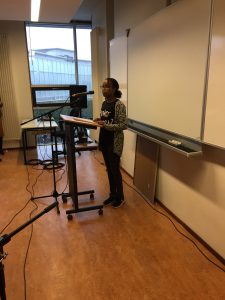 The school is very proud of this year's presentations, and they have a good reason to be.
The regionals will be on February 8th, till then there will be a lot of practice.
Wish us luck!
Claudia Bron: Winner 3rd years.